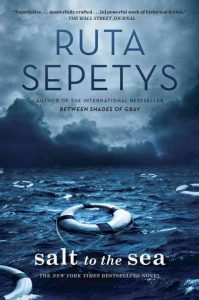 Salt to the Sea
by Ruta Sepetys
4 stars
I have owned Ruta Sepetys' Salt to the Sea for about a year but only read it recently, which is a tragedy.  It was also one of the books for the I Heart YA book club here at the Library.  Salt to the Sea tells the story of 4 teenagers, Joanna a Lithuanian nurse, Emilia a 15 year old Polish refugee, Florian a Prussian boy with secrets, and Alfred a young Nazi soldier in the winter of 1945.
The book starts with some of our characters walking across East Prussia trying to stay away from the dangers of both German and Russian soldiers.  Eventually the four main characters are together on the MV Wilhelm Gustloff, a German military transport ship.  The story switches between the characters points of few frequently, so we get to see all of their reactions to the chaos surrounding them just months before the fall of the Third Reich and the end of World War II.
I though this book was fantastic.  I was not familiar with the fate of the Wilhelm Gustloff, so I admit to googling it as soon as I realized that the book was based on true events.  Salt to the Sea is definitely not a light and fluffy read as Sepetys does not spare her readers the reality of this bleak time in history.  I went into this book expecting it to make me cry.  What I was not expecting were the times it would stun me as Sepetys would describe events with the same speed as they would happen, like a bomb going off and suddenly the people who were standing right behind you are no longer there.  There were several moments when I just had to stop and process what these characters had gone through and how they had to keep moving regardless.
I really recommend this book to anyone who enjoys historical fiction and I intend to read more of Ruta Sepetys' books very soon.
Read-alikes
Code Name Verity by Elizabeth Wein
The Book Thief by Markus Zusak
Front Lines by Michael Grant