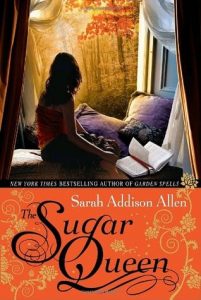 The Sugar Queen
by Sarah Addison Allen
5 stars
The Sugar Queen is a great standalone book from Sarah Addison Allen. Her mix of a little magic and unexpected "things" is so fun to read. Her characters in this book are likable and you really want them to find their happiness. Josey is a repressed young woman who finds comfort in sweets (who hasn't done that!), but finds her way to independence with the help of a most unusual guest who takes up residence in her closet. I am not normally a fantasy fan, but this authors use of the unexplained and fantastical is mild and believable!
I really enjoyed her characters and was invested in their lives. She develops their relationships and finds a way for you to empathize with all of them in some way (with the exclusion of "the hot guy"!).  She catches your interest immediately and doesn't let go until the end.
Read-alikes
The Weekenders by Mary Kay Andrews
Backseat Saints by Joshilyn Jackson
The Wedding Bees by Sarah-Kate Lynch