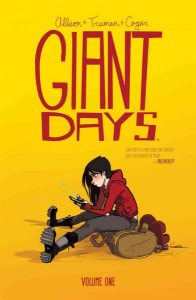 Giant Days
by John Allison, Lissa Treiman, & Whitney Cogar
4 stars
I had heard people rave about different graphic novels, but I was reluctant to try reading one.  It just didn't seem like a format I'd enjoy.  Plus, I didn't really want to read about superheroes all that much.  Recently, however, I decided to finally see what all the fuss was about.  Oh my goodness!  I've been missing out.  The past few weeks have been full of different graphic novels for me, and I've been having a blast.
Giant Days has been my favorite read so far.  It's a light-hearted, realistic fiction about a group of three freshman girls who just started at a British university.  Susan, Esther, and Daisy quickly become friends as they face issues with relationships, reputations, illness, and school.  I love that I was surprised by this format and fell in love with this story.  I found myself laughing at various points, and I'm excited to get my hands on the next volume.
Highly recommend to fans of Rainbow Rowell or Noelle Stevenson.
Read-alikes
Lumberjanes by Noelle Stevenson
Fangirl by Rainbow Rowell
Ms. Marvel by G. Willow Wilson