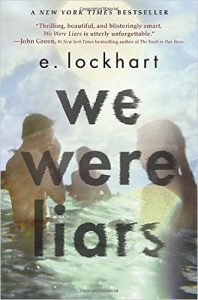 We Were Liars
by E. Lockhart
4 stars
I read this book a while ago, but I have been thinking about it since it was included in a BookRiot list of "10 YA Books that Will Destroy You (And You'll Love It)"…which, depending on your taste may or may not be a ringing endorsement. We Were Liars is the story of Cadence and her 3 friends/cousins. They all come from a wealthy family and spend their summers on an island near Cape Cod. During Cadence's 15th summer, she is in an accident and the resulting head injury causes memory loss. 2 years later, she is preparing to head back to the island for the summer. However no one in her family is willing to talk about how she got hurt or what happened that summer.
I loved that Cadence was an unreliable narrator. Not even she knows what really happened. As a reader, you stumble along with her as she tries to put the pieces together as the story jumps between the past and the present. The family around her either doesn't want to tell her anything, or they have been advised not to. It is beautifully written and the ending hit me like an emotional punch to the chest.
Fair warning – you might cry, I did.
Read-alikes
Belzhar by Meg Wolitzer
The Unbecoming of Mara Dyer by Michelle Hodkin
Don't Look Back by Jennifer L. Armentrout