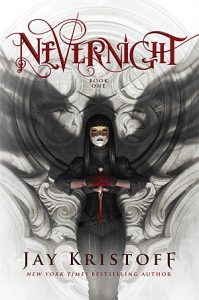 Can't make it to one of our regularly scheduled book clubs? Then read along with our #GPLtalk podcast. Each month, we discuss a different book, and we'd love for you to join us!
This month we discussed Nevernight, a fantasy series by New York Times bestselling author Jay Kristoff.
(From Goodreads) In a land where three suns almost never set, a fledgling killer joins a school of assassins, seeking vengeance against the powers who destroyed her family.
Daughter of an executed traitor, Mia Corvere is barely able to escape her father's failed rebellion with her life. Alone and friendless, she hides in a city built from the bones of a dead god, hunted by the Senate and her father's former comrades. But her gift for speaking with the shadows leads her to the door of a retired killer, and a future she never imagined.
Book Club Conclusion: We all were pleasantly surprised by this book, and we look forward to reading the rest of the series.
Take a listen as Emily, Aubrey, Jessica, and Valerie discuss world building, different book structures, and their desire for a shadow friend.
If you've read the book (or plan to read it!), we'd love to hear your book club conclusion. Would you recommend the book to others?
And be sure to read along with us next month as we discuss Luvvie Ajayi's I'm Judging You.