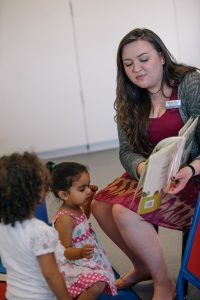 Hi! I'm Katherine, the Children's Librarian who leads all of the storytimes for our birth-35 months age range. We have several storytimes available – Tuesday evening's Bedtime Stories, as well as Wednesday and Thursday's Baby/Toddler Storytime and Terrific Two's. One of the reasons I love leading these storytimes is because of the developmental changes that happen. It's amazing to be able to watch these children grow in such a short amount of time. The sitters start to crawl, the crawlers start to walk, social skills improve, gross motor skills develop, their attention spans get longer, and they become more adventurous. It's an exciting journey that I get a window into, and – to be completely frank – it's adorable.
But why come to storytime? It's fun, don't get me wrong, but what are children getting out of it? From birth through age two, most of the brain's development is happening. While it continues to grow and change for years after, these are essential years for learning.
Historically, storytimes were originally meant to show children that reading itself can be fun and engaging. But reading – while still essential – isn't the main goal of storytime for this age range. We work on the many other skills babies and toddlers need as they grow and develop. And for each age range, there are different elements of storytime that have been fine-tuned.
For our youngest babies, language is the focus. Toddlers are learning how to use language, but young babies are not speaking yet. They are, however, listening – to tone, rhythm, and inflection. Hearing speech in various forms will help them be fluent speakers once they're ready. Studies have shown that the more words babies are exposed to, the better equipped they are for reading when they grow older. So, in storytime, if I start talking about chemical reactions when baking, or the chlorophyll in leaves, you'll know why. Babies are also hard-wired to look at faces – even newborns less than an hour old will stare at face-like images longer than others patterns. Needless to say, we see plenty of faces at storytime.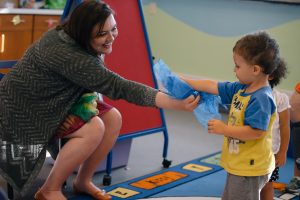 For babies and toddlers who have begun controlling their movements, we have plenty of opportunities when we clap, stop, wave, and more. Storytime gives them a chance to practice gross motor movement, where they have an adult and their peers modeling. We often think of gross motor skills like walking, jumping, clapping, and stomping as being natural. But practice helps children refine their form and technique. When kids get the help they need, they are able to master these movements early on.
Once children begin talking, we again have a focus on language, specifically with music. We sing so much in storytime. Don't worry – no singing ability required. For children, songs encourage the use of language as well as memorization. Repetition is a huge part of storytime – you'll notice that we sing almost every song twice, and we sing the same songs each week. It may not sound fun for the adults in the room, but it's incredibly rewarding to watch your child begin to take part and sing along because of that repetition.
For all ages, storytime is a great chance to just have fun and play. Kids get to interact with each other – they dance together for our songs, explore the storytime room, meet new friends… Play is sometimes underrated, but it's how young children learn. It also gives them a positive relationship with the reading and library. Parents and caregivers also get to meet with each other. New moms are able to talk and get advice, families who are new to the area make new connections, and pre/post-storytime is prime time for socialization with other grown-ups.
Speaking of parents and caregivers, how can storytime help you?
At our storytimes we don't just read, our librarians model how to read books to children. For example, we talk about the story, ask questions, and connect the illustrations to text. These are great skills to incorporate into your own routine.
You'll also get a look at books are ideal for this age range. For example, you'll see plenty of nonfiction picture books, or picture books with realistic situations. I also try to pick books with high-contrast images and plenty of white space, as these are easiest for babies and toddlers to focus on.
If you're looking for more books to read, you can check out our displays or talk to one of us.
If you come regularly, you'll learn the songs we sing and form a repertoire. Some of the adults who attend use these songs at bedtime, or while riding in the car. You can adapt them for your use.
If you want your children to be life-long readers – which will greatly help them once they're older – creating a positive relationship with the library is one of the easiest ways to accomplish that goal. So, add us to your routine. Register for a storytime. Set a day for coming to the library – every week, or every other week, whatever works with your schedule. We're happy to have you, and we'll be here for every step of the way.