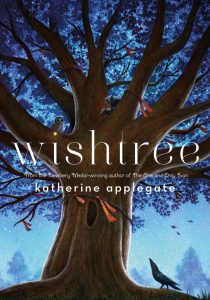 Wishtree
by Katherine Applegate
5 stars
Released September 26, 2017
There are many, many upsides to being a librarian.  Advanced Reader Copies (better known as ARCs) are definitely one. Publishers send out these advanced, uncorrected proofs to drum up enthusiasm for an upcoming book.  They're not always the best of books, but there are usually a few gems. I received Wishtree as an ARC, and it is definitely a gem.
Wishtree is the latest novel from Katherine Applegate.  She's best-known for books like The One and Only Ivan, Home of the Brave, and my childhood favorite, Animorphs – how do you beat kids that can turn into animals? Wishtree is similar to her latest novels. Much like The One and Only Ivan, told from the perspective of a gorilla, Wishtree is narrated by a sentient tree, who has lived on the same street block and watched it grow for her entire life. She tells a story of community, bigotry, and acceptance.
After a boy carves "Leave" into her trunk – a message for the family that lives across the street, who have just immigrated to the area – the tree's owner decides that it may be time to cut her down, to erase that message of hate. The tree and the animals who live within her embark on a mission to save the day.  Applegate fleshes out their world. The human characters are rather featureless, though. We don't get much of a description and the information we have about them is mostly inferred. It makes sense, considering that our beloved narrator is a tree. Overall, Applegate tells a beautiful tale that I really enjoyed reading.
Read-alikes
The One and Only Ivan by Katherine Applegate
Stella by Starlight by Sharon M. Draper
Amina's Voice by Hena Khan