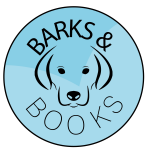 October is Adopt a Shelter Dog Month, and here at GPL we're partnering with the Johnson County Animal Shelter to offer Barks & Books!  What is Barks & Books?  Well, it consists of a few different parts.
Part 1 – Facebook Posts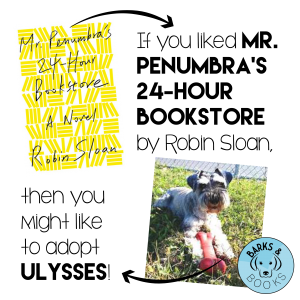 Each week, we'll be pairings dogs available for adoption at Johnson County Animal Shelter with some book recommendations.
For example, if you loved the eccentric, playful, older character of Mr. Penumbra in Robin Sloan's Mr. Penumbra's 24-Hour Bookstore, then you might like adoptable, playful senior Ulysses.
We'll have new pairings multiple times each week all month long, so be sure to check our Facebook page – https://www.facebook.com/greenwoodpubliclibrary – for these fun and adorable posts!
Part 2 – Donation Drive
To further help out the Johnson County Animal Shelter, the Teen Volunteer Corp has organized a donation drive.  Please consider donating some of the following items during the month of October.  We'll have a bin in the lobby to collect donations.
Needed Items:
Pig ears
Purina kitten chow (the yellow bag)
Grain-free puppy food
Canned pate cat food
Dog & cat treats
Paper towels
White copier paper
Construction style trash bags – 13 & 39 gallon bags
Blue Dawn dish soap
Scrubbing sponges
Bleach
Dog beds
Gas cards – helps with transporting dogs to rescue
The Animal Shelter is on a fixed budget, so any donations they receive helps them to supply more cats and dogs with the medication and shelter they need.
Part 3 – Book Suggestions
Do you love reading about our four-legged friends?  Then check out some of these recommended titles.  For even more suggestions, stop in and take a look at our Barks & Books display in the lobby!