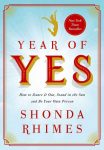 Year of Yes: How to Dance It Out, Stand In the Sun, and Be Your Own Person
by Shonda Rhimes
5 stars
"You never say yes to anything."  These were the words Shonda Rhimes' sister muttered to her one Thanksgiving.  These six words caused the creator of Grey's Anatomy to rethink her life and to challenge herself to a new way of living.  Rhimes describes herself as a life-long nerdy introvert who often would shy away from new experiences.  She decides to commit to a full year of saying yes.  She'll say yes to experiences that scare her, to putting herself first, and to saying no when needed.
This is a fun, inspiring read about a woman working to grow and improve herself.  Fans of Rhimes' shows will love some of the behind-the-scenes descriptions, but there's plenty here for readers who have never heard of the famed TV writer.  Highly recommended!
Read-alikes
Hunger by Roxane Gay
Love, Loss, and What We Ate by Padma Lakshmi
Notorious RBG by Irin Carmon & Shana Knizhnik