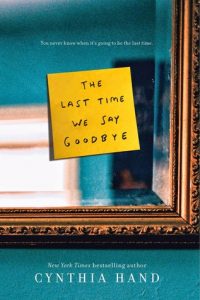 The Last Time We Say Goodbye
by Cynthia Hand
4 stars
Lex is a math genius and a high school senior who has worked very hard to get into MIT.  She's a sister, a daughter, and a girlfriend. She has friends she loves and a bright future in front of her.  And her brother is dead.  The future that was so bright seems lonely and unsure.  Everything changed in one moment, with one text.  Everything.  And it haunts Lex.  He haunts Lex.
I had absolutely no expectations with this book.  To be honest, it's one I would normally shy away from – the loss of a sibling plot line overwhelms our shelves at the library, and it's not really one of my favorite types of stories.  But without anything waiting in my audiobook queue I thought I'd give it a chance.
And I loved it.  It was thoughtful, sincere, and genuine in its depiction of loss and regret.  There was no aptly timed romance to pull Lex out of her depression, no overly preachy therapist bashing ideas into her head.  The Last Time We Say Goodbye is  just a story about a girl who is sad, and refreshingly there wasn't someone telling her she shouldn't be.  Lex was a fully developed character, and through her you also get a full picture of her brother Tyler and their relationship.  Her healing takes time and patience, but it pays off with a gradual understanding and appreciation for life, both her own and her brother's.
I didn't dissolve in a pool of tears with this one, but I did appreciate Lex's journey and her tenacity.
Read-alikes
The Serpent King by Jeff Zentner
All the Bright Places by Jennifer Niven
Along for the Ride by Sarah Dessen