April is National Poetry Month!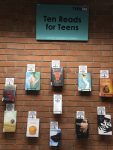 Here are some ways you can join in the celebration:
Write a poem! You can share it with friends and family, your favorite librarian, or even get it published by someone like Poetry Foundation!
Watch a movie about poetry. A few of my favorites are Dead Poet's Society, Sylvia, and The Basketball Diaries.
Celebrate "Poem in Your Pocket Day" on April 27th – Select a poem you love, carry it with you, and share it with people you see.
Share poetry with your community by using sidewalk chalk.
Attend a poetry reading event. (You should totally wear a beret with a black turtleneck and snap you fingers like a beatnik.)
Memorize a poem.
Check out one of the teen novels in verse listed below!
The Poet X – Elizabeth Acevedo
Because I am Furniture – Thalia Chaltas
One – Sarah Crossan
Forget Me Not – Carolee Dean
Bull – David Elliott
The Lightning Dreamer – Margarita Engle
The Good Braider – Terry Farish
Two Girls Staring at the Ceiling – Lucy Frank
Poisoned Apples – Chrstine Heppermann
Crank – Ellen Hopkins
Ronit & Jamil – Pamela Laskin
Sold – Patricia McCormick
This Impossible Light – Lily Myers
October Mourning – Leslea Newman
Karma – Cathy Ostlere
Long Way Down – Jason Reynolds
Song of the Sparrow – Lisa Ann Sandell
Like Water on Stone – Dana Walrath
For Tweens:
Heartbeat – Sharon Creech
A Time to Dance – Padma Venkatraman