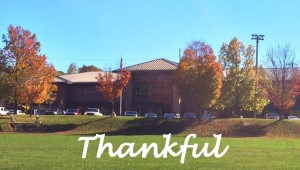 New parking lot. Check.
New heating and air system. Check.
New teen area. Check.
What's next at GPL?
Thanksgiving is just days away and here at GPL we are very thankful for an amazing year. After years of dreading the demise of our heating and air conditioning system, it finally failed – but fortunately we were right in the middle of replacing it thanks to our construction bond. The RDC helped us replace our cracked and dangerous parking lot, and our Friends of the Library helped us create a beautiful new teen space and update our lobby. At the end of the year we also completed major repairs to storm drains on the west end of the building, finally solving a decade-old problem of flooding in the children's department. WOW! What a year.
We are thankful for you, our patrons, and for your patience and your partnership with these projects.
And we are not done yet.
In the coming months you will see more activity around the building as we prepare to paint the interior of the library and then install new carpet. New paint and carpet are exciting, but when you have a public building full of books it can be a logistical nightmare.
In preparation for this huge project, you will immediately begin to notice books being moved as we shift portions of the fiction and non-fiction collections. Don't worry; we will be sure to provide excellent signage and assistance during this time so that you can find what you need. Shelving will be removed from walls to allow for painting. In fact you may find a little dust in every area of the building as walls are repaired and prepped for painting.
The actual flooring work will take place in February (upstairs), March (downstairs), and April (offices). Some areas of the building may temporarily close during this time but we will work hard to keep our services available to you in spite of the construction – and we again ask for your patience.
Not so long so long ago we thought all of these projects were out of reach, and yet here we are. The key has been your investment in us.  You have invested in us not only through your tax dollars but also through your gifts to our Friends of the Library organization, your patronage, and your volunteer hours. That investment has been transformative. Alone we cannot succeed, but with your transformative investment our problems have become possibilities.
Thank you for helping us make Greenwood a great place to live and work. We wish you and your family a wonderful Thanksgiving holiday.