I didn't grow up reading comic books.  Well, there was Archie Andrews and his neighborhood friends, but beyond that I never really read much in that particular format.  Then one day just a few years ago I got it into my head that I needed to actually explore the graphic novel collection that I was curating for the library.  I didn't expect to enjoy them, but I found that they were actually a nice break from the novels I had stacked up on my dining room table.  I also discovered that all of my preconceived notions about comic books only being about superheroes was completely wrong.
Now graphic novels are scattered throughout my monthly to-be-read lists.  Yes, I make monthly reading lists.  And while I've come to enjoy superhero graphic novels (I like DC over Marvel, but Marvel movies over DC), I find that I gravitate more toward the non-superhero variety.  I don't have to worry about backstory or the decades of previous storylines, and I'm constantly impressed with the beauty of the artwork.
If you've ever considered reading a graphic novel, need to mark "graphic novel" off of the 2017 Reading Challenge list, or are simply curious what all the fuss is about, here are 10 non-superhero graphic novels that come highly recommended.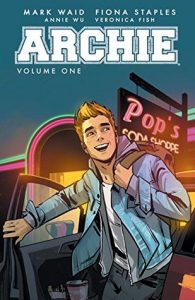 1) Archie Vol. 1 : The New Riverdale by Mark Waid, Veronica Fish, Thomas Pitilli, and Ryan Jampole
Reboot!  The second volume of the Archie series reboot is out, and it's pretty fantastic.  Meet Riverdale High teen Archie, his oddball, food-loving best friend Jughead, girl-next-door Betty, and well-to-do snob Veronica Lodge as they embark on a modern reimagining of the beloved Archie world.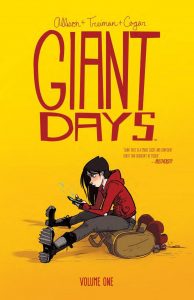 2) Giant Days by John Allison, Lissa Treiman, and Whitney Cogar
A laugh out loud college romp.  Three university freshman become fast friends and spend the year attempting to reinvent themselves.  But in the face of handwringing boys, "personal experimentation," influenza, mystery-mold, nu-chauvinism, and the willful, unwanted intrusion of "academia," they may be lucky just to make it to spring alive.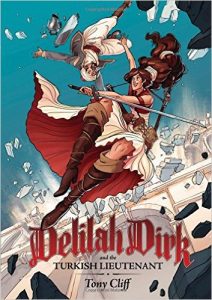 3) Delilah Dirk and the Turkish Lieutenant by Tony Cliff
Lovable ne'er-do-well Delilah Dirk has traveled to Japan, Indonesia, France, and even the New World.  Using the skills she's picked up on the way, Delilah's adventures continue as she plots to rob a rich and corrupt Sultan in Constantinople.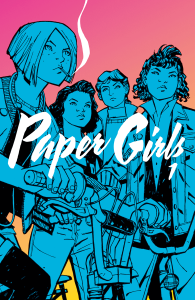 4) Paper Girls, Vol. 1 by Brian K. Vaughan, Cliff Chiang, and Matthew Wilson (Rated TEEN PLUS)
In the early hours after Halloween of 1988, four 12-year-old newspaper delivery girls uncover the most important story of all time.  Suburban drama and otherworldly mysteries collide in this smash-hit series about nostalgia, first jobs, and the last days of childhood.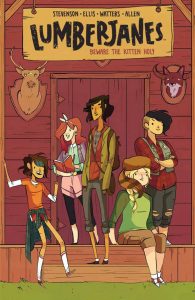 5) Lumberjanes, Vol. 1 : Beware the Kitten Holy by Noelle Stevenson, Grace Ellis, Shannon Watters, and Brooke A. Allen
Friendship to the max!  At Miss Quinzilla Thiskwin Penniquiqul Thistle Crumpet's camp for hard-core lady-types, things are not what they seem.  Luckily, Jo, April, Mal, Molly, and Ripley are five rad, butt-kicking best pas determined to have an awesome summer together…and they're not gonna let a magical quest or an array of supernatural critters get in their way!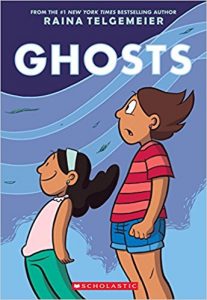 6) Ghosts by Raina Telgemeier
Catrina and her family are moving to the coast of Northern California because her little sister, Maya, is sick. Cat isn't happy about leaving her friends for Bahía de la Luna, but Maya has cystic fibrosis and will benefit from the cool, salty air that blows in from the sea. As the girls explore their new home, a neighbor lets them in on a secret: There are ghosts in Bahía de la Luna. Maya is determined to meet one, but Cat wants nothing to do with them. As the time of year when ghosts reunite with their loved ones approaches, Cat must figure out how to put aside her fears for her sister's sake – and her own.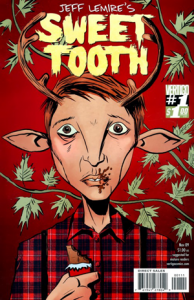 7) Sweet Tooth, Vol. 1: Out of the Deep Woods by Jeff Lemire (Rated MATURE)
Gus, a rare new breed of human/animal hybrid who was raised in isolation following a pandemic that struck a decade earlier. Now, with the death of his father, he's left to fend for himself . . . until he meets a hulking drifter named Jepperd, who promises to help him. Jepperd and Gus set out on a post-apocalyptic journey into the devastated American landscape to find 'The Preserve,' a refuge for hybrids.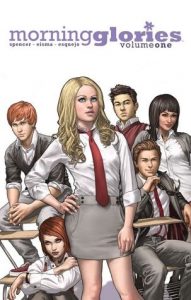 8) Morning Glories, Vol. 1: For a Better Future by Nick Spencer and Joe Eisma (Rated MATURE)
Morning Glory Academy – One of the most prestigious prep schools in the country…But behind it's hallowed doors something sinister and deadly lurks. When six brilliant but troubled new students arrive, they find themselves trapped and desperately seeking answers…and escape from a place where nothing is what it seems to be!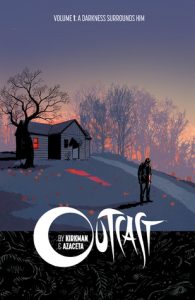 9) Outcast, Vol. 1: A Darkness Surrounds Him by Robert Kirkman, Paul Azaceta, and Elizabeth Breitweiser (Rated MATURE)
NEW HORROR SERIES FROM THE WALKING DEAD CREATOR ROBERT KIRKMAN! Kyle Barnes has been plagued by demonic possession all his life and now he needs answers. Unfortunately, what he uncovers along the way could bring about the end of life on Earth as we know it.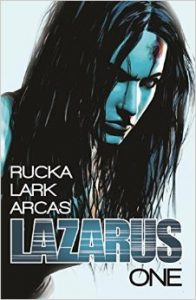 10) Lazarus, Vol. 1: Family by Greg Rucka, Michael Lark, and Santiago Arcas
In a dystopian near-future, government is a quaint concept, resources are coveted, and possession is 100% of the law. A handful of Families rule, jealously guarding what they have and exploiting the Waste who struggle to survive in their domains. Forever Carlyle defends her family's holdings through deception and force as their protector, their Lazarus. Shot dead defending the family home, Forever's day goes downhill from there…