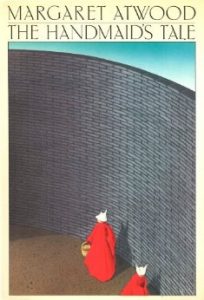 The Handmaid's Tale
by Margaret Atwood
5 stars
The Handmaid's Tale is one of those novels that has been on my list to read for quite some time.  I finally decided to read Atwood's classic dystopian tale, and I'm so glad I did.
Offred is a handmaid in what used to be the United States.  Birth rates are declining, and women are only really valued for their reproductive value.   Handmaids are women who are expected to produce babies for the commanders and their wives.  They are not allowed to read, travel alone, or be alone with a man.  Limitations are set on all in this strict society.
Atwood does a masterful job of revealing the details of this society slowly.  You can't help but continue reading just to uncover more information about how the United States became this way, and why these rules are set.  The eerie part of this book is how logical some of it seems.  It's the fear that the well-meaning plan can go too far resulting in a dystopian society, that really creates the suspense of this novel.  It's easy to compare this society with what happened in Europe during WWII.  Definitely a book that will make you think.
Read-alikes
Agenda 21 by Glenn Beck
When She Woke by Hillary Jordan
Fahrenheit 451 by Ray Bradbury