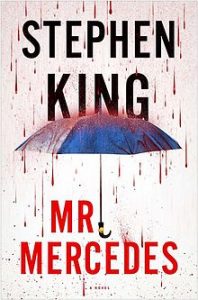 Mr. Mercedes
by Stephen King
5 stars
For someone who doesn't like books or movies that give me nightmares, there is always a sense of danger in choosing a Stephen King book. And most of the members of the Primetime Book Club were also a little hesitant to embrace Mr. Mercedes as our next title.  And yet there's no denying that King's writing is brilliant, and that he pulls us into a fascinating, and sometimes horrifying battle between good and evil in each of his books. I had a hard time putting this one down.
Mr. Mercedes begins with job seekers gathering in the pre-dawn hours for a job fair. It isn't much of a spoiler to say that you shouldn't get too attached to any of them. After all, this is a book about a serial killer. It is in this opening scene that we meet Brady, aka The Mercedes Killer. He lives with his alcoholic mother and spends his time planning his next victim's gruesome death. His two part time jobs as an on-call IT support person and as an ice-cream truck driver are strategic so that he will be able to invisibly surveil his victims as he plans his crimes. (I might or might not have run inside the house and drawn the blinds the next time I heard an ice-cream truck!)
Next we meet Bill Hodges, a recently retired detective. Retirement isn't sitting well with Hodges, who finds himself watching way too much TV and drifting through his days. But when he receives a goading letter from Brady, he finds himself waking up and ready for a battle with a killer he has always wanted to catch. As Hodges begins to correspond with the Mercedes Killer, he enlists the help of a couple of unlikely partners and the pace of the book really picks up.
Brady's final, well-thought-out plot to kill as many people as possible is unthinkable – and yet as you ride along inside the head of a serial killer, you've been seeing the strands of it come together all the way through the book.  It is unnerving. Mr. Mercedes might not give you nightmares, but it will get inside your head. The good news is that you are also seeing the story through the eyes of Detective Hodges, and you are rooting for him.
While this is not my favorite Stephen King book, it is in my top three. The Stand and 11/22/63 are my top two, and I'd definitely recommend any of these three to all types of readers. But before you sit down to read any of them, clear your calendar and get a nice cup of tea handy. You aren't going anywhere for a while!
Read-alikes
Winter Prey by John Sandford
The Devil's Teardrop by Jeffery Deaver
Every Fifteen Minutes by Lisa Scottoline