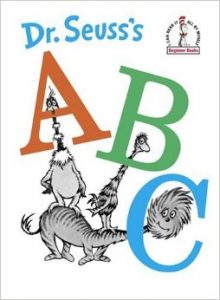 Dr. Seuss's ABC
by Dr. Seuss
5 stars
March 2 is Dr. Seuss's birthday. Libraries, schools, and community centers honor Dr. Seuss on this day by celebrating "Read Across America Day."  While any type of reading is encouraged on Read Across America Day, many people use this day to also celebrate Dr. Seuss and his books. Seuss's books are classics and many of us have personal memories associated with his books. Miss Ginger memorized "The Cat in the Hat" after reading it over and over to her sons. Miss Katherine loved reading "One Fish, Two Fish, Red Fish, Blue Fish" with her brother. Miss Anne loves Yertle the Turtle because she remembers reading it over and over again with her brother. (They also had a pond with turtles.)
My own personal favorite book is "Dr. Seuss's ABC." The rhymes and illustrations are so silly – they always made my siblings laugh. I could always get my little sister to laugh when we got to the letter u. "Big U, little u, what begins with U? Uncle Ubb's umbrella and his underwear, too." Of course, since this section was about underwear, it was always a big hit. I used to say, "Uncle Ubb's umbrella and his underwear, too!" to my sister whenever she was crying to cheer her up and get a smile.
Besides being fun and silly, Dr. Seuss books are great for all ages. They have a great rhythm that babies and toddlers enjoy listening to. Most Seuss books are filled with "nonsense" words that make kids laugh, but they also are good way to see if your beginning readers can decode what they are reading by using phonics. They will learn to sound out words that they don't recognize, such as "Zizzer-Zazzer-Zuzz." While reading the books together, you can also see if your child can find the rhyming words such as cat-hat, and Sam-ham. This is a good way to develop your child's phonological awareness, or the knowledge of the sounds that words make.
Reading Dr. Seuss books is a great way to bond with your child and develop lasting memories. Stop by GPL and see if you can find your own favorite this month.
Read-alikes
Chicka Chicka Boom Boom by Bill Martin
Eating the Alphabet by Lois Ehlert
Green Eggs and Ham by Dr. Seuss