I've learned a lot over the last 10 years working with teens. I've learned that they are always hungry; that playing the board game Sorry! can initiate passionate competition; and that beneath angst and hormones are intelligent, curious, hilarious individuals who see the world in creative ways.
I've also learned that each school year is different – different students, different cultural trends, and different educational focus – each of which bring unique opportunities for us to serve. This school year brought us an unexpected challenge. What do you do when the middle school that was once right next door moves a couple of miles away?
You take a long look in the mirror, have a serious conversation about mission and values, and refocus to meet that challenge.
And so we introduce to you…

TeenHQ is a new approach to teen services at Greenwood Public Library. The space is accessible during library hours, and all ages are welcome to browse our teen, manga, and graphic novel collections. Teen Services staff will also be hosting programming in TeenHQ that offers opportunities for teens to explore the world around them, build new skills, and socialize with friends. Programs will now be hosted in the evening and weekends to accommodate busy school schedules. Check out The Scoop or Library's events calendar for upcoming events.
We're also introducing The Hangout @ TeenHQ – a TEENS ONLY time and space for teens in the community to feel safe and comfortable just hanging out, listening to music, studying, reading, playing a game, or watching a movie (to name just a few activities).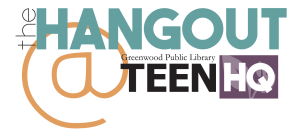 The Hangout is 1-5pm Monday – Friday. Our hours are designed to welcome both homeschool and public school students into the space. Teen Services staff will be available for supervision, book recommendations, homework help, game playing, and general helpfulness during The Hangout hours.
And a final exciting change – the Library's Teen Advisory Board will now and forever be known as the Teen Volunteer Corp.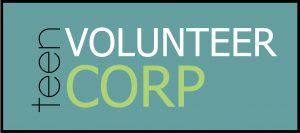 The Teen Volunteer Corp was created by the Teen Services Department as a program designed to offer leadership opportunities for teens in Greenwood. Corp members assist and support the Teen Services Department by brainstorming, promoting, and volunteering at programs, submitting reviews for the library's social media, and helping make TeenHQ a welcoming space. There are so many reasons to join, but in case your teen needs some persuading…they can earn service hours for school, network with other teens in the community, and request AWESOME scholarship letters and job references from the Teen Services staff.
Whew. That's a lot of changes, but we are super excited to begin this new chapter of serving teens in Greenwood. And to kick off all of the fun, we are hosting an Open House on Thursday, October 12th from 1-7pm to celebrate! We'll have all of our activities out and available to explore, and we'll provide some light refreshments and a raffle prize to bribe you into coming.
Please visit TeenHQ if you have any questions, program suggestions, or need help finding your next favorite book. We're ready to serve!