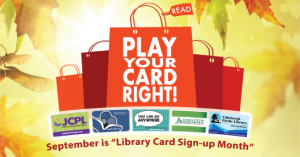 September is "Library Card Sign-up Month." A library card has always been the smartest card in your wallet, and now it's your most valuable. Show your valid Greenwood Public Library, Johnson County Public Library, or Edinburgh Public Library card at these businesses to receive discounts and perks during the whole month of September!
Did You Know?
Your library card has benefits that you can celebrate all year long:
In just one month, if you…
borrowed 5 movies
attended 2 programs and
borrowed 1 park pass
You would save $200!
Visit ilovelibraries.org to calculate how much money you and your family would save each month.
Play Your Card Right Discounts
There's something for everyone this year!  Visit https://www.pageafterpage.org/play-your-card-right for a full list of discounts, and get ready to "play your card right."