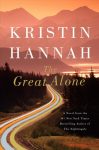 The Great Alone
by Kristin Hannah
5 stars
"You stand by the people you love." As crazy as it proves to be, this is the motto of Leni, a young teen trapped in a tortured family where love and pain are twisted together in a torturous knot. After her parents move to Alaska to escape the "craziness" of life in Seattle during the early 1970's, they are met with the uncompromising realities of living off the grid in a tiny fishing community where darkness reigns 16 hours a day during the long winters.
However, Leni and her mother also find strength in true community: a fellowship of women who stand up and work together to protect each other and their way of life. Finding friendship and love in her tiny high school also brings to light possibilities of a future different than that of her parents.
This book opens a window into the lives of modern day "pioneers" living in the last true wilderness of the United States.  Kristin Hannah is a master of weaving together stories that resonate long after you put the book down.
Read-alikes
The Poisonwood Bible by Barbara Kingsolver
Heroes of the Frontier by Dave Eggers
Educated by Tara Westover