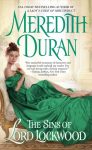 The Sins of Lord Lockwood
by Meredith Duran
4 stars
Meredith Duran is a romance writing master! Her characters and prose always pull my heartstrings…but luckily there's always a happy ending. Her latest, The Sins of Lord Lockwood, tells the story of Anna and Liam during the Victorian era. They married four years ago, but Liam disappeared on their wedding night. We gather he was abducted and transported to Australia. But Anna, believing he married her for her money only and not what she thought was a budding love, assumes he left her after getting some of her money.
She reads of Liam's return in the newspaper, leaves her Scottish island, and confronts Liam in London. Eventually she learns of the horrors he's endured and helps him in his quest for revenge despite his attempts to push her away. The book is sprinkled with flashbacks that beautifully describe their courtship years earlier. If you're looking for adventure, romance, and revenge in your next book, I highly recommend it.
Read-alikes
Delicious by Sherry Thomas
Mine Till Midnight by Lisa Kleypas
Proof by Seduction by Courtney Milan