February is Black History Month, as many of us know. It's one of my favorite displays to put together – there's so many wonderful books to choose from. Our display at the library will be up for the month, but if you're looking for a small taste of what we have to offer, scroll on down.
Biographies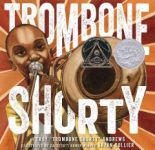 Trombone Shorty by Troy Andrews
recommended for ages 6-9 JBIO ANDREWS
Troy, "Trombone Shorty" Andrews, a native of New Orleans, began playing the trombone when he was a child. He started leading his own band at age 6 and today is a Grammy-nominated jazz artist. This picture book biography tells of his childhood and music career.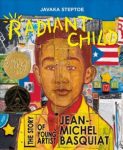 Radiant Child: The Story of Young Artist Jean-Michel Basquiat by Javaka Steptoe
recommended for ages 6-10  JBIO BASQUIAT
Jean-Michel Basquiat was a modern artist who worked in collage-style painting during the 1980s. Steptoe reflects on that style in this book and tells readers that they don't have to play by the rules to create striking art.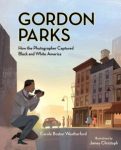 Gordon Parks: How the Photographer Captured Black and White America by Carole Boston Weatherford
recommended for ages 6-8  JBIO PARKS
After teaching himself how to take pictures despite little encouragement in school, Parks earned a job in Washington, DC. Parks grew more aware of racism and segregation, and thus more of his work focused on inequality. He would go on to become the first black director in Hollywood.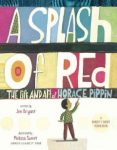 A Splash of Red: The Life and Art of Horace Pippin by Jen Bryant
recommended for ages 8-11   JBIO PIPPIN
As a child, Horace Pippin loved to draw. After injuring his right arm in WWI, Pippin was no longer able to create art. Nonetheless he continued working and learned how to paint using his left. Now, his paintings can be found in major museums and galleries across the United States.
Nonfiction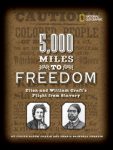 5,000 Miles to Freedom: Ellen and William Craft's Flight from Slavery by Dennis and Judith Fradin
recommended for ages 10+   J 306.3 FRA
Ellen and William Craft were able to escape slavery through their own ingenuity. Ellen posed as a white man and William's owner while the two of them traveled North. After their reputation spread, slave hunters from across the nation made it their mission to capture the couple.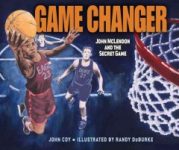 Game Changer: John McLendon and the Secret Game by John Coy
recommended for ages 6-9   J 796.323 COY
In 1944, Coach John McLendon organized a game between white and black college basketball teams. It was done under the cover of night without spectators, as it was illegal for white and black teams to play against each other. After the game, the players agreed to keep it a secret to protect themselves and their coaches. A great book for talking about how barriers are created (both socially and politically), and the ways in which we can bridge them.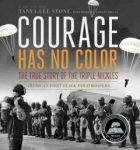 Courage Has No Color: The True Story of the Triple Nickles: America's First Black Paratroopers by Tanya Lee Stone
recommended for ages 10+  J 940.541 STO
The Triple Nickels were the first team of black paratroopers. First Sergeant Walter Morris knew that his soldiers were talented and capable, but had to convince military elites and politicians that they could do the job. The 555th Parachute Infantry Battalion "proved that the color of a man had nothing to do with his ability."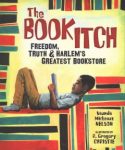 The Book Itch: Freedom, Truth, and Harlem's Greatest Bookstore by Vaunda Micheaux Nelson
recommended for ages 6-9  J 974.7 NEL
Lewis Michaux, Sr. sold books on street corners, telling people everything they could learn from them. As his passion grew, he started the National Memorial African Bookstore in Harlem, one of the most prominent African-American bookstores in the country. The store became an important location during the Civil Rights Movement.