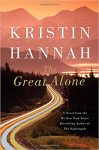 The Great Alone
by Kristin Hannah
4 stars
It's 1974 in Seattle. Teenage Leni and her mom and dad are set to make yet another move. But this time instead of moving around the northwest they are headed to Alaska, the land of The Great Alone. The move comes just in time as Leni's dad has lost yet another job. He was a POW in Vietnam and returned physically fine but has trouble interacting with people and controlling his temper.
They arrive at the perfect time on a little spit of land near Homer.  They're just in time to prepare for the long, dark winter that will be upon them before they know it. Leni's dad thrives in the sunshine and long days. His nightmares are held at bay. But once the season turns all bets are off.
Kristin Hannah does a fabulous job building the tension between Leni and her mom and her dad, the strain between her dad and the residents who want to welcome change (and tourists' dollars), and the battle between Leni's family and the elements. All those nail-biting scenes are set against a beautiful and sometimes harsh Alaskan backdrop that Hannah describes wonderfully. This book has so much to offer: a coming of age story, romance, adventure, survival, family dynamics.
Read-alikes
Her Father's House by Belva Plain
Heroes of the Frontier by Dave Eggers
Into the Wild by Jon Krakauer