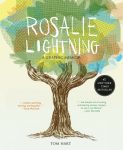 Rosalie Lightning: A Graphic Memoir
by Tom Hart
5 stars
This book is beautiful.
Rosalie Lightning is a true story that centers on Hart and his wife, and the death of their young daughter. Rosalie passed at night, just before her second birthday. It is heartbreaking, frenetic at times, and a raw, honest look into their lives. I have no idea how one begins to cope with the loss of a child, and I love that Hart doesn't either. He offers no answers, no guidelines, just an observation of what happens and how he processes it. Highly recommended to anyone who appreciates a good graphic novel.
Hart is currently working on a second graphic memoir, about his recovery through writing the book. I hope that's coming along, and I'm excited to see whatever he writes next.
Read-alikes
A Year Without Mom by Dasha Tolstikova
Persepolis by Marjane Satrapi
Maus by Art Spiegelman