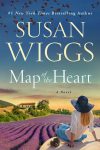 Map of the Heart
by Susan Wiggs
4 stars
Camille, an expert in photography and development, is processing film for Professor Malcolm Finnemore (Finn), a history detective.  She's interrupted by a phone call stating her daughter, Julie, a high school freshman, is in the hospital with an injury inflicted by bullies.  In a panic, she bursts from the dark room, destroying Finn's film which held Finn's family secrets.  Surprisingly, Finn is quite understanding  and they develop a relationship despite Camille's guilt over her husband's death.
Besides her daughter's bullying, Camille is faced with her father's cancer, but more difficult than the disease, are the sinister undertones of her father's French heritage.  His mother was in a loveless marriage with a Nazi collaborator and died in childbirth.  Camille's father longs to return to France to face his childhood demons and to discover the truth about his father.  In this, Camille recruits Finn's help to uncover family secrets that bring surprising revelations to all concerned.
There have been a lot of books written about World War II lately.  I can only imagine how difficult it must have been to live during this time period.  How could you protect those you love in the face of destructive forces over which you have no control?  The people who lived during this time period exhibited true courage, and I admire them greatly.  I highly recommend this book.
Read-alikes:
The Nightingale by Kristin Hannah
In Farleigh Field by Rhys Bowen
The Distant Hours by Kate Morton