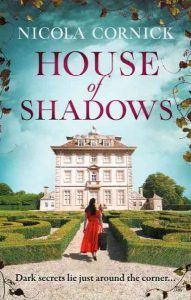 House of Shadows
by Nicola Cornick
4 stars
This is my first read by Nicola Cornick. The summary greatly interested me and I love historical fiction, especially dealing with any member of royalty. I love finding new authors and I was pleasantly surprised to see that Cornick has several other books and series.
House of Shadows is told from three different time periods: the 1600's with the Queen of Bohemia, Elizabeth Stuart; Lavinia Flyte, a courtesan in the 1800's, and Holly Ansel from the present day whose brother has disappeared after researching his family history. Despite the hundreds of years between the characters, they are all connected. I think Cornick did a great job researching for this book. The setting is beautifully written, and I could imagine it in my mind.
The mystery and superstition was very well done, as well as the alternating different time periods. I love that she used real characters mixed in with fictional ones. I love to research whether parts of the story were true after I finish the book. I enjoyed how everything started tying together in the last quarter of the book. I loved that this inspired me to research parts of history that I otherwise wouldn't have thought of on my own.
Read-alikes
The Light in the Ruins by Chris Bohjalian
We Have Always Lived in the Castle by Shirley Jackson
The Taxidermist's Daughter by Kate Mosse