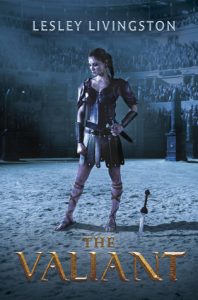 Can't make it to one of our regularly scheduled book clubs?  Then read along with our #GPLtalk podcast.   Each month, we discuss a different book, and we'd love for you to read along!
This month we discussed The Valiant by Lesley Livingston, a historical fiction teen title set during the Roman Empire.
Fallon, the daughter of a Celtic King, is kidnapped by Roman slavers and taken out of Britain to Rome where she is sold to an elite training school for female gladiators.  The school is owned by Julius Caeser – the same tyrant that invaded her homeland and killed her sister.  In order to survive, Fallon must hone her skills with a sword and navigate threats both inside and out of the arena.
Book Club Conclusion: The general consensus was positive for the entertaining story set during an interesting and brutal time of history.  We might not rush to read the series sequel, but it's definitely one we recommend.
Take a listen as Emily, Aubrey, Jessica, and Valerie discuss historical fiction, quick love connections, and the desire for blood.
If you've read the book (or plan to read it!), we'd love to hear your book club conclusion. Would you recommend the book to others?
And be sure to read along with us next month as we discuss Jay Kristoff's Nevernight.