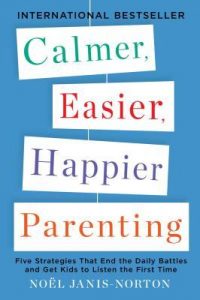 Calmer, Easier, Happier Parenting: Five Strategies That End the Daily Battles and Get Kids to Listen the First Time
by Noël Janis-Norton
4 stars
I was hooked right away when Noël Janis-Norton listed the difficulties of parenting kids in today's world. She described my feelings exactly particularly regarding how today's parents don't usually feel comfortable letting their kids roam around the neighborhood all day long from dawn till dusk. Now a lot of parents feel like they have to entertain and/or be their child's playmate which can be stressful when you're also cooking, cleaning, etc. Then add in screen time, and childhood seems so different from when I grew up.  Her five strategies (Descriptive Praise, Preparing for Success, Reflective Listening, Never Ask Twice, and Rewards and Consequences), when implemented consistently, can help facilitate a happier relationship between parents and kids. I've already started Descriptive Praise (a particular way of praising your child beyond just saying "good job") and Preparing for Success (basically, planning ahead for stressful times of the day) with my 7-year-old, and I've seen a positive difference in his behavior with less whining and crying. I can't wait to move on the next strategies! Noël Janis-Norton's writing style is very easy to follow, and her book is chock full of examples from real parents from many different backgrounds and parenting styles.
Read-alikes
ToughLove: Raising Confident, Kind, Resilient Kids edited by Lisa Stiepock
Easy to Love, Difficult to Discipline: The 7 Basic Skills for Turning Conflict Into Cooperation by Becky A. Bailey
1-2-3 Magic by Thomas W. Phelan