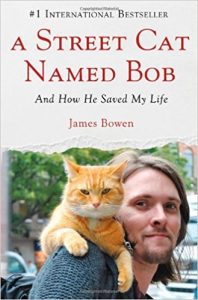 A Street Cat Named Bob: And How He Saved My Life
by James Bowen
4 stars
Is it possible for a cat to save a person's life? James Bowen thinks so.  For the past ten years, James had been a drug addict, trying to survive on the streets of London.  With the help of some counselors, he was trying to get his act together.  He had a place to live, and he made just enough money for food, rent, and utilities by being a street musician.  Then one day, a ginger cat entered his life.  James had always liked cats as a child, so he didn't mind that this cat was hanging around, but he sure didn't expect him to stay.  He named the cat Bob, and he and Bob became constant companions.  It wasn't long before James realized he had someone to care for other than himself, and this was the impetus he needed to turn his life around.
As a cat lover myself, I really enjoyed this book.  I admired James for having the strength to overcome his drug dependency.  James felt that Bob had come into his life for a reason.  Bob was loving and non-judgmental, and that's exactly what James needed at that point in his life.
Read-alikes
Making Rounds with Oscar: The Extraordinary Gift of an Ordinary Cat by David Dosa
Homer's Odyssey: A Fearless Feline Tale by Gwen Cooper
Dewey: The Small-Town Library Cat Who Touched the World by Vicki Myron