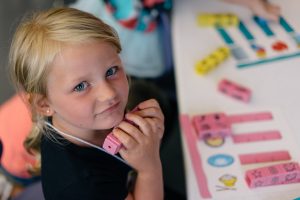 We piloted a new program earlier this year in May, all designed around sensory play experiences for toddlers. Sensory Play, or any sort of play tied to sensory experiences, is a natural part of development for children. Encouraging these experiences is a fun way to help children as they grow. Sensory Play can also be a bit of a pain to put together as a parent – the prep and cleanup are difficult to juggle alongside other tasks.
As our baby/toddler storytime librarian, I wanted to find a way to make these activities accessible and convenient. I also wanted to create a style of class that would work for children who find storytime overwhelming, or need to stay moving. Tiny Tot Adventures is a completely unstructured program. All of our materials are laid out, and children and their caregivers can drop into the program anytime during the scheduled 1-2 hours and spend as long as they like doing whatever they want. Most toddlers will spend 10-20 minutes in the space, which is a developmentally appropriate time.
I thought I'd take this opportunity to talk about the different elements we have each week, as well as some ways you can bring these elements home.
Water Play
Water is a fun sensory activity that can be challenging to pull off in a library. Sometimes we'll mix colors together, play with water beads, or thaw ice. Using items like droppers can work fine-motor skills. Scooping is another developmental milestone, and water play is a great way to practice it. At home, water play is easiest to tackle in the bath or outside during the summer. You can bring in washable watercolors, shaving cream, or colored ice cubes. Cleanup is easy – just drain everything out with the bath!
Sensory Bin
Sometimes our sensory bin is filled with water-play items, and other times it's filled with beans, colored rice, straws, corn kernels… It's fun to explore different sensations. Many of these can be done at home – rice is a cheap, fun material to play with. You can color it by dropping a bit of food coloring and a teaspoon of vinegar or rubbing alcohol into rice and mix it in a bowl or inside a plastic bag. The cleanup can be a challenge, especially if our little ones like to throw it. If you don't feel like dealing with that mess, try taking it outside during a nice day. This is an easy one to keep stashed away, and you can play with colored rice over and over.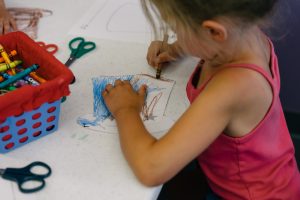 Coloring Table
Coloring is a great way to practice early writing skills. With toddlers, coloring often comes at the sacrifice of a table. At the library, we use easel paper stretched across the table. This is easy enough to take and try at home. If you have a spare table, you can leave the paper out. It keeps the tables clean, but it also gives toddlers a chance to draw, color, and scribble without any added pressure of staying inside lines or creating a masterpiece to be saved.
Bubble Wrap
We bought a roll of bubble wrap, but you could always save some from an online purchase. Popping it can be both a gross and fine motor activity! Set it on the ground for stomping, or have your children pop it with their fingers. When you're finished, you can recycle it with your plastic bags in any plastic film recycling can (usually found at your local grocery store by the exit).
Activities
We also provide several activities that ask children to sort by color, sort by size, or do small counting activities. These aren't always sensory-related, as it's more of a chance to practice these skills. But they're easy to bring into the playtime you already have. When playing with Legos, take a minute or two to run through colors. If your child isn't talking, then make observations. "Thank you for handing me the yellow block," or "Look, you put two green blocks together! They match!" Patterns, colors, and numbers can easily be incorporated into constructive play. Not everything has to be a quiz, though. During imaginative play, quizzing for colors, sizes, and quantity is ideally left out.
It's easy to incorporate sensory play into your daily routine – your toddler is already exploring the world through senses, so it can be as simple as encouraging experiences that stretch them. Whatever you do, take time to have fun and interact one-on-one. Play doesn't have to be a series of teachable moments.