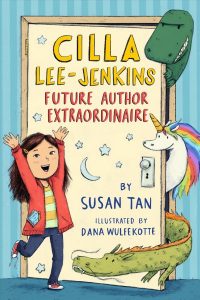 Cilla Lee-Jenkins: Future Author Extraordinaire
by Susan Tan
5 stars
Cilla is an only child, but not for long – her parents are pregnant with a sibling she not-so-affectionately calls "the blob." She's decided to start writing her life story, from the beginning (including her first 5 years when she was bald, and her love of eating snails). Readers who loved Junie B. Jones will enjoy Cilla's voice – her spunk, her sass, and her antics. Cilla is also comfortably herself – the character does not feel derivative.
Cilla is biracial, Chinese and white. She feels the separation between the two sides of her family, as she experiences different cultures with each set of grandparents and becomes frustrated by the distance between them. Cilla also deals with microaggressions that often come with being multiracial. She doesn't fully understand them yet, when she is stopped by strangers who ask her "Where are you from?" Her answer – here – does not suffice, and she is generally confused as to why strangers feel they need to know her racial makeup.
Overall, Cilla Lee-Jenkins: Future Author Extraordinaire is a delightful novel for readers who enjoy funny, slightly mischevious characters.
Read-alikes
Unusual Chickens for the Exceptional Poultry Farmer by Kelly Jones
Strange Case of Origami Yoda (Origami Yoda #1) by Tom Angleberger
The Midnight War of Mateo Martinez by Robin Yardi