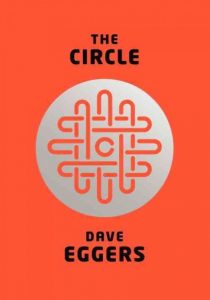 The Circle
by Dave Eggers
4 stars
I read Dave Eggers' The Circle for the library's new Well Red Book Club that meets at Vino Villa each month. I chose the book for the club because a fellow staff member raved about it and because the movie adaptation starring Emma Watson and Tom Hanks came out recently.
Mae Holland has just gotten a new job with the help of her college friend, Annie, at The Circle, a company similar to a merger of Google, Amazon, and Facebook. Mae finds that to perform well at her job, she must also participate socially pretty much 24/7 with her fellow employees on The Circle campus and not hurt anyone's feelings.  And "socially" is in-person and particularly through social media.
As the world outside The Circle campus becomes less real to Mae her counterpoint is her parents and a high school friend who are not enmeshed in The Circle. We see them try to pull her back, but Mae is enthralled with The Circle and its potential to help the world…but at what cost?
While I did not find Mae to be very sympathetic, I found the storyline to be compelling and chilling. And very relevant in today's society. Read and be warned!
Read-alikes
Before the Fall by Noah Hawley
A Visit from the Goon Squad by Jennifer Egan
The Handmaid's Tale by Margaret Atwood